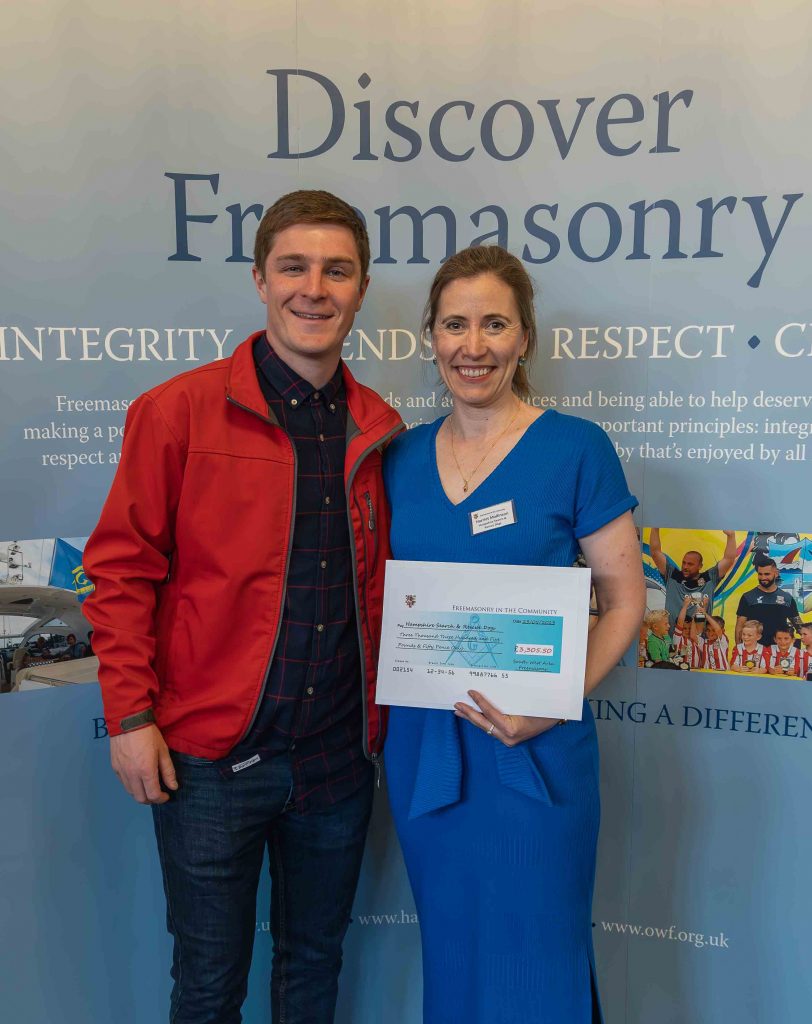 Hampshire Search & Rescue Dogs team members Conor and Harriet receive £3305.50 from Hythe Lodge.
Freemasons from the South West Area, Hants and Isle of Wight hosted over twenty different charity organisations at the Lymington Masonic Centre on Tuesday the 23rd May 2023 for the Freemasonry In the Community Charity Presentation Evening. The proceedings were opened by Worshipful Brother Stephen Morgan and then handed over for an opening address by the Assistant Provincial Grand Master, Worshipful Brother Chris Lockwood.
Money was raised through the different Masonic Lodges covering the areas of Christchurch, Lymington, New Milton, and Ringwood. Hampshire Search & Rescue Dogs was awarded £3305.50 from Members of Hythe Lodge who have spent 12 months raising money in the community by holding a number of fundraising events in aid of the team.
A grand total of £90,985 was raised for good causes within the Community.
Dignitaries in attendance included;
The Mayor of Christchurch: Cllr Ms Vivienne Charrett and Consort Mrs Janet Johnstone
The Mayor of New Milton: Cllr David Hawkins
The Mayor of Ringwood: Cllr Gareth Deboos
The Deputy Mayor of Lymington & Pennington: Cllr Colm McCarthy
Harriet Mallinson from Hampshire Search & Rescue Dogs, said "We are honoured to be supported by members of Hythe Lodge. As volunteers we recognise that this is not only a very generous financial donation but also the gift of time with Lodge members voluntarily organising and running fundraising activities to raise money for our team. We could not provide our life saving service to the community with out support such as this. Thank you."
Assistant Provincial Grand Master Chris Lockwood, South West Area said: "Freemasons have an outstanding record helping those in need within our local communities. I'm very proud that South West Area Freemasons within Hampshire have been able to play such an important part in this essential charity fundraising. A truly humbling evening listening to how charities spend the money donated by Hampshire and Isle of Wight Freemasons"
David Symes, Hythe Lodge, Freemasons presents cheque to Harriet and Conor, Hampshire Search & Rescue Dogs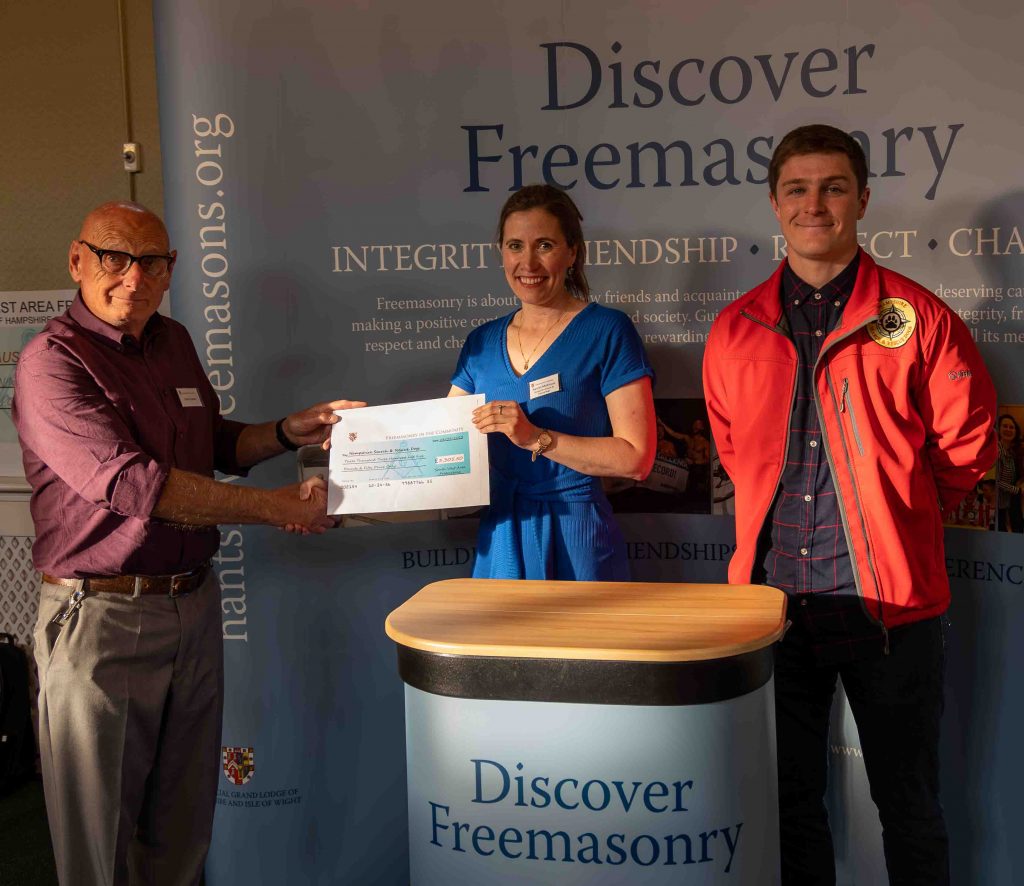 -ENDS-
Notes to Editors:
Hampshire Search & Rescue Dogs are a team of volunteers who are called out by the police to search for high risk, vulnerable missing people. The dogs and their handlers, together with supporting search technicians, are trained and assessed to national standards. All operational members of the team are on call 24 hours a day, 365 days a year. The team is a registered charity (number 1114740). For further information about the team please get in touch via the contact page
There are around 9,000 Freemasons in Hampshire and Isle of Wight, and over 250 Lodges. Although Freemasonry has been an open and transparent organisation for some time, there are still many misconceptions. Freemasonry is a society concerned with moral and spiritual values based on integrity, kindness, honesty and fairness. It is one of the world's oldest and largest non-religious, non-political, fraternal and charitable organisations.
For further information please contact:
Ali Longworth – email: alilongworth7984@gmail.com
South West Area Public Relations Officer, Hampshire & IOW Freemasons