Join us!
*HSAR Dogs Recruitment Status: We are currently closed for recruitment for operational volunteers. However, if you are interested in Training Support, fundraising or admin volunteer roles for further information about joining the team and information about future HSAR Dogs open days please contact us via our contact page.
Our team are ALL volunteers, all ages and from all walks of life.
There are many ways you can volunteer with Hampshire Search and Rescue Dogs. We have two types of roles; operational and non-operational.
Operational Roles: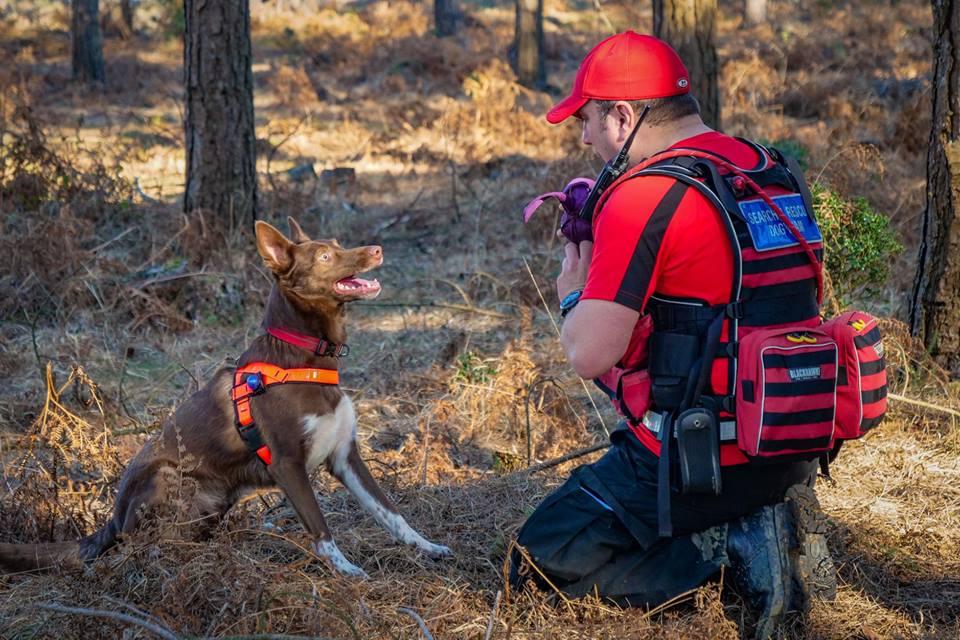 Dog Handler: This is the ultimate in terms of volunteering with our team and one which requires huge dedication and commitment. As a Dog Handler you will train with your own young dog (generally less than 2 years old) to form a working partnership that is used on live searches (Callouts) to search for missing people. The handler and dog must qualify through a series of national assessments in order to become an operational team. This can take up to two years of training to become a fully trained and qualified area (level 3) team.
As a handler you must be physically fit and able to walk five miles in two hours carrying basic search equipment. In addition you must complete a Lowland Search Technician Course and a period as an Operational Support (See below) with our team or as a Search Technician in a Lowland Search Team prior to being considered as a probationary Dog Handler. Once accepted this leads to a six month probationary period where your ability as a handler as well as the dog's potential will be assessed. Following this there is an intensive period of training as a Trainee Dog Handler and Trainee Dog prior to formal qualification. Handlers are trained and assessed to national standards under the umbrella organisation ALSAR.
Operational Support (Supporting a dog handler): Operational Supports play a critical role in the life of our team. At each live shout a search dog team is comprised of the Dog Handler, the Dog and an Operational Support. The Operational Support deals with all navigation, communication, first aid and record-taking during the search. This allows the Dog Handler to concentrate solely on working their Dog. As an Operational Support you must be physically fit and able to walk five miles in two hours carrying basic search equipment. No previous experience is necessary however you must show an aptitude for the various elements of the role and be willing to qualify to a minimum of Lowland Search Technician standard. All training and support is provided and a commitment to attend regular training sessions is expected.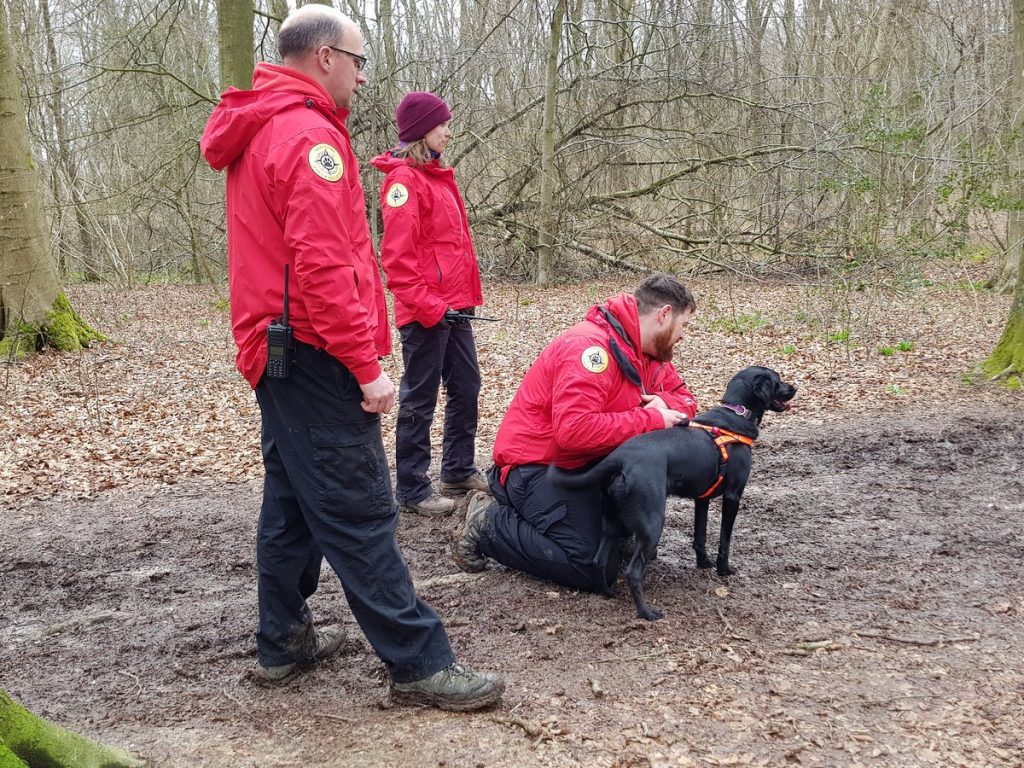 ---
Specialist Roles:
Swift Water Rescue: Hampshire has a long coast line and many rivers and is prone to flooding. Our Swift Water Rescue volunteers (SRTs) can respond to emergency events to search for missing people. Our boat is modified to transport a search dog safely. You must train as an Operational Support before joining the SWR team.
Search and Rescue Drone Pilot: We use innovative technology to enhance our searching capability alongside our dogs and help save lives. Quick to deploy the search & rescue drone is an asset that helps decrease search time. The drone pilots also support Fire and Rescue at incidents such as wildfires. You must train as an Operational Support before joining the Drone Team.
---
Non-Operational Roles:
Dogsbody (Training Support): Do you love dogs, like to play ball, throw tug or fetch?! All our dogs learn through experience so it is essential that we have a wide range of human smells for them to find. As a Training Support you must be willing to hide out in all weathers in various terrains for up to an hour or so. This is an excellent opportunity to read a book, contemplate the universe, have a nap (!) or study the local wildlife.
A Training Support is an ideal opportunity to support Hampshire Search and Rescue Dogs for those that do not have as much time to commit as others. It is a good way to understand more what we do and to gain experience before potentially committing to further opportunities such as Operational Support or Dog Handler. We ask our Training Supports to commit to attending training once a month. An excellent opportunity to meet people, for families to have fun together, and to exercise in the fresh air!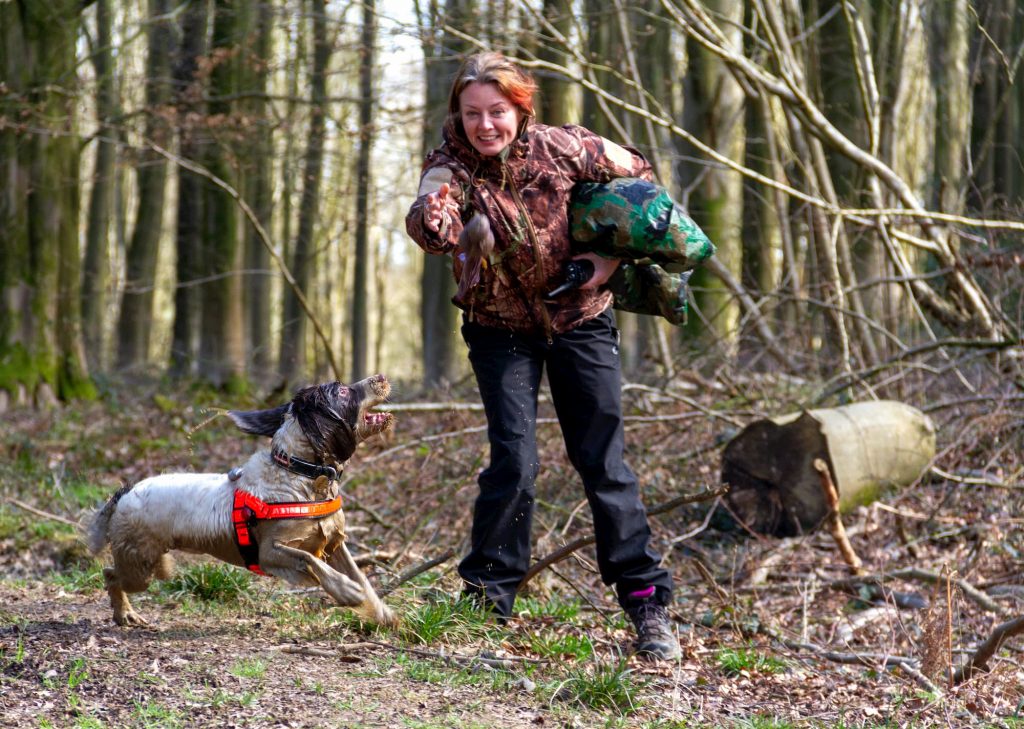 Click here to read a personal account from one of our Training Supports. Team member Sash describes what it is like to be a non-operational, training support and the direct value it adds to training our dogs and saving lives.
Administration Roles: We really welcome interest from people who can support the team in a non-operational capacity such as fundraising, grant applications and admin support. Get in touch today.
All operational and non-operational roles play a part in delivering the vital life saving service to our emergency services.
---
When and how often do we train?
The team trains twice a week on a Wednesday evening and on a Sunday during the day. We train at various venues all over Hampshire. Operational team members must meet a minimum attendance of 8 training sessions and 2 theory sessions per quarter. Training support (Dogsbodying) commitment is minimum of once a month.
Want to get involved?
For more information on volunteering with the team, go to our contact us page and fill out the form. We look forward to hearing from you!
Being a 'dogsbody'

Toy reward focus!

First Aid training

Team Training

Search Dog Kai training in New Forest

Petra our team Incident Support Vehicle

Operational Support with dog handler

Trainee Search Dog Monty playing with his reward at training

Swift water training alongside multi agencies

Search & Rescue Drone training

Evacuating casualty training

Navigation training

Assessment success to remain operational

Rewarding the dog for finding at training

Search Dog Oppo at Helo training